Banana Leaf Enzyme Exfoliant
$48.00
Banana Leaf Enzyme Exfoliant is a delicious, ultra rich, creamy enzymatic exfoliant that effectively dissolves dead skin cells without manual scrubbing. Banana, rich in Minerals and Antioxidants, helps soften skin and maintain an optimal moisture level. Pineapple Enzymes coupled with potent Antioxidants gently remove unwanted surface debris revealing a glowing complexion.

SIZE:
4 oz/125g

RECOMMENDED FOR:
Skin Type: Dry | Mature | Normal | Sensitive
FEATURED INGREDIENTS:

BANANA FRUIT PUREE - a soothing emollient with mild antioxidant properties. EXTRA VIRGIN COLD PRESSED AVOCADO OIL - is a natural emollient that makes dry skin look and feel better. LICORICE ROOT EXTRACT - contains glycyrrhetic acid which offers anti-inflammatory properties. SUNFLOWER SEED OIL - is rich in Vitamin A & E and helps condition and moisturize.
23k Intensive Eye Treatment
$45.00
23 Karat Intensive Eye Treatment addresses the special needs of the Eye Zone that is prone to visible signs of aging such as: fine lines, wrinkles, dark circles, moisture loss, free-radical damage, collagen and elastin breakdown. Luxurious, calming Calendula, Seabuckthorn and Organic Sunflower instantly refresh and encourage elasticity and smoothness.

SIZE:
.5 floz / 15ml

RECOMMENDED FOR:
Skin Type: All Dry Mature Normal Sensitive Environmentally-stressed
FEATURED INGREDIENTS:

SHEA BUTTER - is gathered by hand in the form of nuts and prepared by steaming and pounding. Traditionally used for healing wounds and burns as well as sprains and muscle pain.
---
Adzuki Blueberry Exfoliant
$46.00
Revive sensitive skin the gentle way with this exquisitely formulated powder exfoliant that provides maximum results with minimum irritation. Dual action micronized Adzuki Rice and Bamboo Powder gingerly remove dry, dehydrated, devitalized skin while Colloidal Oatmeal soothes and calms irritation. Blueberry fruit fibre, containing naturally occurring antioxidants and vitamins C & E, helps to further nourish and protect sensitive skin. Ideal for those with sensitive skin who desire a radiant complexion.

SIZE:
4 oz/125g
RECOMMENDED FOR:
Skin Type: Dry | Sensitive
FEATURED INGREDIENTS:

ADZUKI BEAN POWDER - exfoliates skin without dehydrating, leaving a soft, radiant glow. BLUEBERRY FRUIT POWDER - used as a gentle exfoliant a rich source of vitamin C and anti-oxidants. BAMBOO POWDER - A mild exfoliant suitable for sensitive skin and for use on the face. COLLOIDAL OATMEAL - Coats the skin and seals in moisture. Natural exfoliant and skin cleanser.
---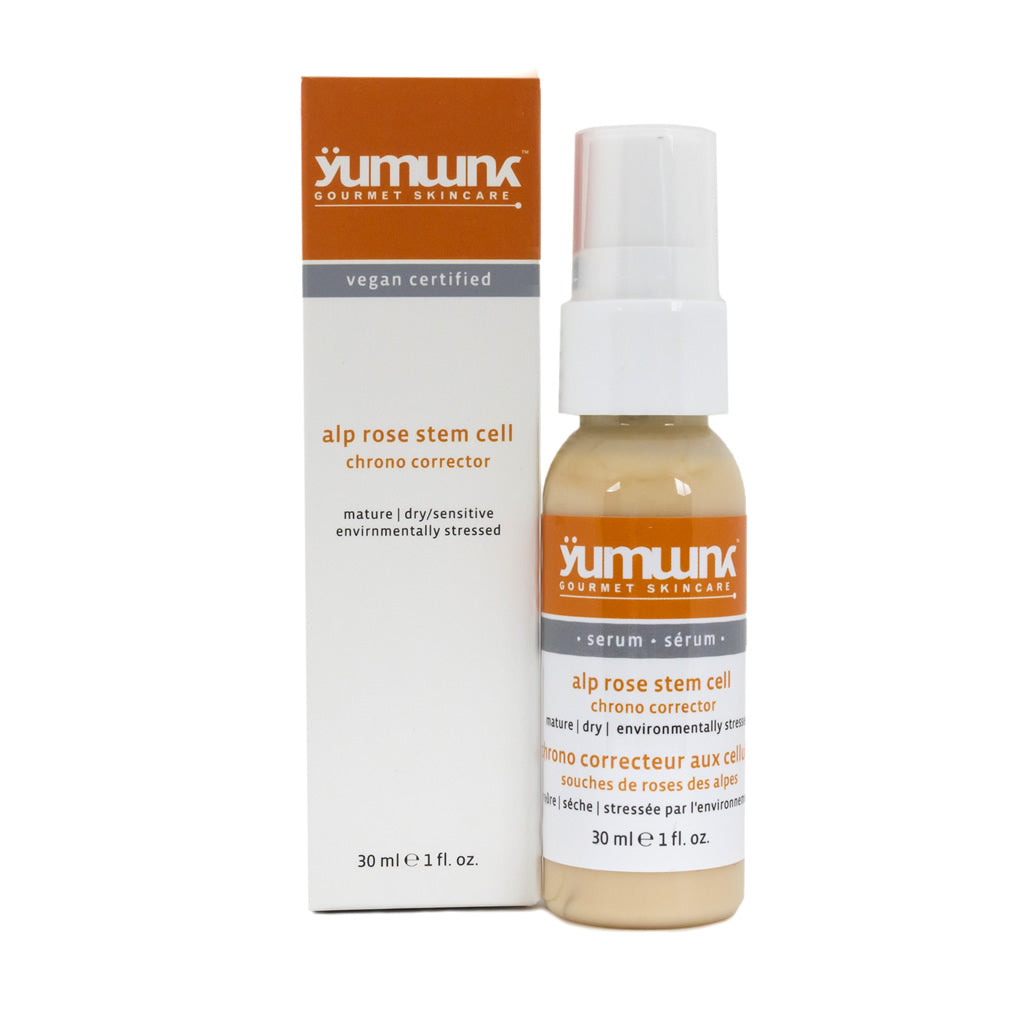 Alp Rose Stem Cell Chrono Corrector Serum
$50.00
RECOMMENDED FOR:
Skin Type: All | Dry | Normal | Sensitive


SIZE:
1 floz / 30 mL
---